"Eat , Explore and Experience"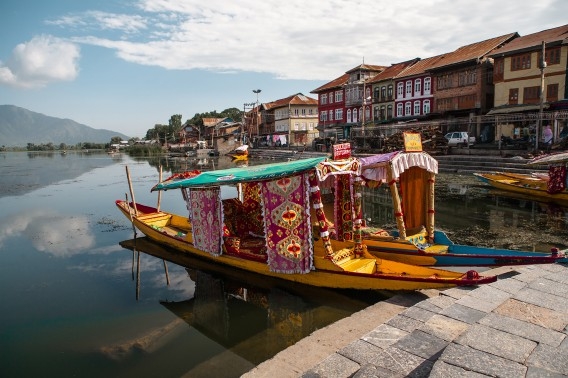 Srinagar
A city with a vast expanse of legendary lakes, that are woven with an intricate network of canals and backwaters which famously makes it known as the houseboat capital of India. A land dotted with natural landscapes, exotic mountain valleys, picturesque villages and comfortable houseboats, Kashmir has been rightly pronounced as the Paradise on Earth.
Once you step in this small Himalayan kingdom your holidays change into a magical fantasy where you can unwind and relax yourself at our comfortable houseboats that are located at a quite and peaceful location away from the city noise in the Dal Lake. Imagine yourself about the fun when your planned tours are turned into exciting fishing trips, boating tours, leisure car safari's, sightseeing and excursion trips across the valley.
Old City
With its almost medieval charm, the old city of Srinagar has sights, smells and sounds to enchant the most jaded traveller. Its labyrinthine roads and bustling bazaars are a photographer's delight. Traditionally dressed men and women on their way to the city's many mosques and shrines, burnt brick buildings with their rich warm colour, these are some of the old city's moods which linger in the corners of a traveller's mind, long after one leaves Kashmir.
Jama Masjid
The Jama Masjid at Nowhatta, in the heart of the old city, is the other important mosque in Srinagar at which thousands of people congregate for the Friday prayers. Of imposing proportions, the mosque is built around a courtyard and is supported by 370 wooden pillars. The hushed quiet of the mosque counterpoints the bustle of the old bazaars surrounding it. Originally built by Sultan Sikandar in 1400 AD, and enlarged by his son, Zain-ul- Abidin, it is a typical example of Indo-Saracenic architecture. Destroyed thrice by fire and rebuilt each time, the mosque, as it now stands, was repaired during the reign of Maharaja Pratap Singh.
Dal Lake
One of the most beautiful lakes of India and the second largest in the state. Its three sides are surrounded by majestic mountains and a large number of gardens and orchards have been laid along the shores.. Dal Lake is unique in having hundreds of houseboats, which afford an opportunity for tourists to reside on the lake in an atmosphere of peace and tranquility.


Nigeen Lake
Located just a small distance away from Dal Lake. In fact both the water bodies are interconnected by a small water channel. In summer time the water is pleasantly cool. The lake is one of the best ions, which you can enjoy a captivating round of boating. Even in the middle of the lake you can experience the thrill of shopping.
Wular & Manasbal Lake
It is difficult to describe in mere words the beguiling beauty of Wular Lake. For one, its formidable size – this is one of Asia's largest fresh water lakes – for another, it changes character with every few miles. The drive from Srinagar will take you to the calm waters of Manasbal, where there is no other sound but birdsong. Manasbal has often been described as the bird watcher's paradise, and as your shikara glides through this mirror of tranquillity, you will experience yet another facet of Kashmir. From Watlab, the Wular Lake stretches away as far as the eye can see, edged by picturesque villages around terraced breeze-rippled fields of paddy, in a riotous burst of colour, the sheer grandeur of the spectacular countryside at leisure.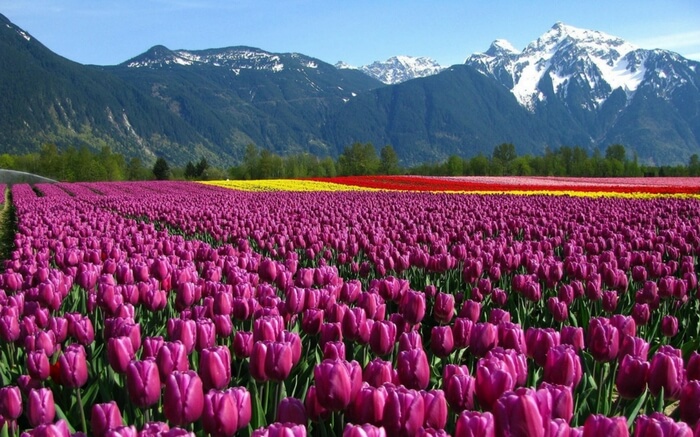 Tulip Garden
Tulip garden previously named as Model Floriculture Centre, is located at the base of Zabarwan Hills with partial fromnt view of picturesque Dal Lake. This garden was conceived, conceptualized and created by Mr. Gh. Nabi Azad, the then Chief Minister, J&K in the year 2006-07. Main aim of this garden is to boost floriculture and advance tourism in Kashmir Valley. Over 12 Lakh tulip bulbs of 68 varieties of different colours are said to be blooming here every year.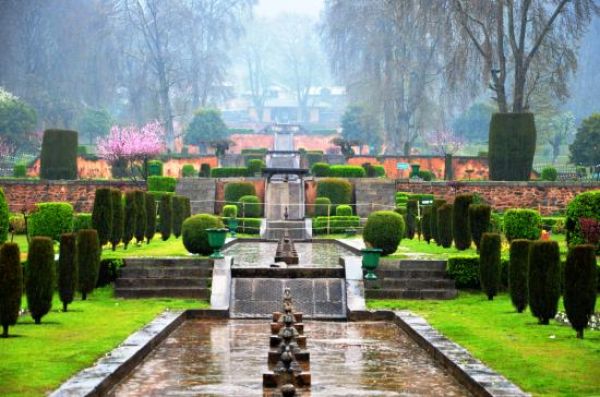 Nishat Garden
Nishat garden, the garden of Delight, is the largest Mughal Garden on Dal-Lake and was laid out by Asaf Khan, brother of Nur Jahan, The empress of Mughal India and wife of Jahangir, in the year 1632 A.D. It is located on Dal-Lake about 2.5 Kilometers to the south of Shalimar and commands a magnificent view in the west and with a panoramic back drop of mountains in the East. The garden had originally 12 terraces. Enchanting central water channel, rippling fountains in large tanks and channels and sparkling cascades amidst bountiful colours, lush lawns and mighty chinars are principal features of this pleasure garden.
Hazratbal
The Hazratbal Mosque is located in a village of the same name on the banks of the Dal. Its pristine white marble elegance is reflected in the waters of the lake. Hazratbal's special significance is derived from the fact that it houses a hair of the prophet Muhammad. This is displayed to the public on religious occasions, usually accompanied by fairs. Apart from these occasions, Friday prayers are offered at Hazratbal and attended by throngs of people. Hazratbal is remarkable for being the only domed mosque in Srinagar; the others having distinct pagoda like roofs. The shrine – mosque complex is situated on the western shore of the DalLake opposite Nishat Bagh and commands a grand view of the lake and the mountain beyond.
Glimpse of Kashmir
3N/4D Srinagar & Gulmarg
Transport by car, 3N/4D accomodation in Srinagar, Breakfast & dinners included, Half day tour of Mughal Garden, Full day excursion to Gulmarg, Shikara cruise on Dal Lake.
Valley of Kashmir
3N/4D Srinagar & Sonmarg
Transport by car, 3N/4D accomodation in Srinagar, Breakfast & dinners included, Half day tour of Mughal Garden, Full day excursion to Sonmarg, Shikara cruise on Dal Lake.
Discover Kashmir
4N/5D Srinagar, Gulmarg & Pahalgam
Transport by car, 2N/3D accomodation in Srinagar, 1N/2D accomodation in Gulmarg, 1N/2D accomodation in Pahalgam, Breakfast & dinners included, Half day tour of Mughal Garden, Shikara cruise on Dal Lake
Glimpse of Ladakh
4N/5D Leh,Sham Valley, Pandong Lake
Transport by car, 4N/5D accomodation in Leh, Half day tour of Sham Valley, Excursion to Khardong La, Excursion to Pangong Lake.
Best of J&K
9N/10D Katra, Patnitop, Pahalgam, Gulmarg & Srinagar
Transport by car, 3N/4D accomodation in Katra & Patnitop, 2N/3D accomodation in Pahalgam, 1N/2D accomodation in Gulmarg, 3N/4D accomodation in Srinagar. Breakfast & dinners included. Half day tour of Mughal Garden.
Ladakh & Kashmir
9N/10D Leh - Nubra - Alchi - Lamayuru - Sonamarg - Srinagar
All transfers by car, 3N/4D accomodation in Leh, 1N/2D accomodation in Nubra Valley, 2N/3D accomodation in Alchi / Uleytoko, 1N/2D accomodation in Sonamarg, 2N/3D accomodation in Srinagar.
Season (15/04 - 15/10)
Off-Season (15/10 – 15/04)
Season (15/04 - 15/10)
Room

E.P.

C.P.

M.A.P.

A.P.

Double

3300

3750

4500

5300

Single

2250

2500

3150

3500

+1 Adult

600

800

1000

1250

Kids

(Age 3-10)

500

600

700

900
Sole Use of 2BR houseboat = 6300 (E.P. basis only)
Off-Season (15/10 – 15/04)
Room

E.P.

C.P.

M.A.P.

A.P.

Double

2700

3000

3600

4200

Single

1800

2000

2500

2850

+1 Adult

600

800

1000

1250

Kids

(Age 3-10)

500

600

700

900
Sole Use of 2BR houseboat = 5000  (E.P. basis only)
Heating Charges from 15/10 – 15/04 each room/night = 250


E.P. Rooms Only
C.P. Breakfast Only
M.A.P. Breakfast, Lunch or Dinner
A.P. Breakfast, Lunch and Dinner
Free pickup from Srinagar airport or bus terminal